Project: Democracy in Crisis? 30 years after reunification – MY EUROPE – shape Europe's future democratically and in solidarity Democratic crisis
Program: Europe for Citizens
Action: European awareness of history
No .: 601989-CITIZ-1-2018-1-EL-CITIZ-REMEM
Duration: 09/01/2020 – 11/15/2021
This European memory project, Democracy in Crisis, will discuss the state of democracy in Europe with eyewitnesses, citizens, speeches, and political representatives.
In Bulgaria, old structures of dictatorship are still alive, and the corruption threatens democracy; in Spain, separatism is building 'new walls'; Thuringia (East Germany) has a right-wing populist party with more than ¼ of the population; in West Germany, people seem sceptical about reunification and EU enlargement to the East. It is even more important to talk to citizens about the current state of democracy and the future of Europe and invite them to participate. Testimonial workshops in each country will bring the "reunification story" to life; a "photo marathon" will make EUROPE visible in each city. These "MY EUROPE" photos will be shown in international exhibitions in each city, where Europe, reunification and the current challenges of democracy will be discussed.
Especially, young citizens will be invited to contribute essays for balcony speeches, to walk around their city and take pictures of EUROPA and reunification in their city in a "photo marathon"; through debates, street surveys and radio campaigns, citizens are invited to engage with the challenges facing a crumbling Europe and to actively participate in shaping it. The activities are prepared in a transnational exchange and will take place in Jena, Pleven, Granada and Lüneburg. Through schools, universities, and museums, we talk about citizens, and through social services, about young people who are critical and insurgent against the liberal-democratic order.
Citizens gain understanding of the EU, democracy and identification with Europe. An impulse document will summarise the results of the policy from the citizens' point of view and will be transmitted to political leaders, translated into all national languages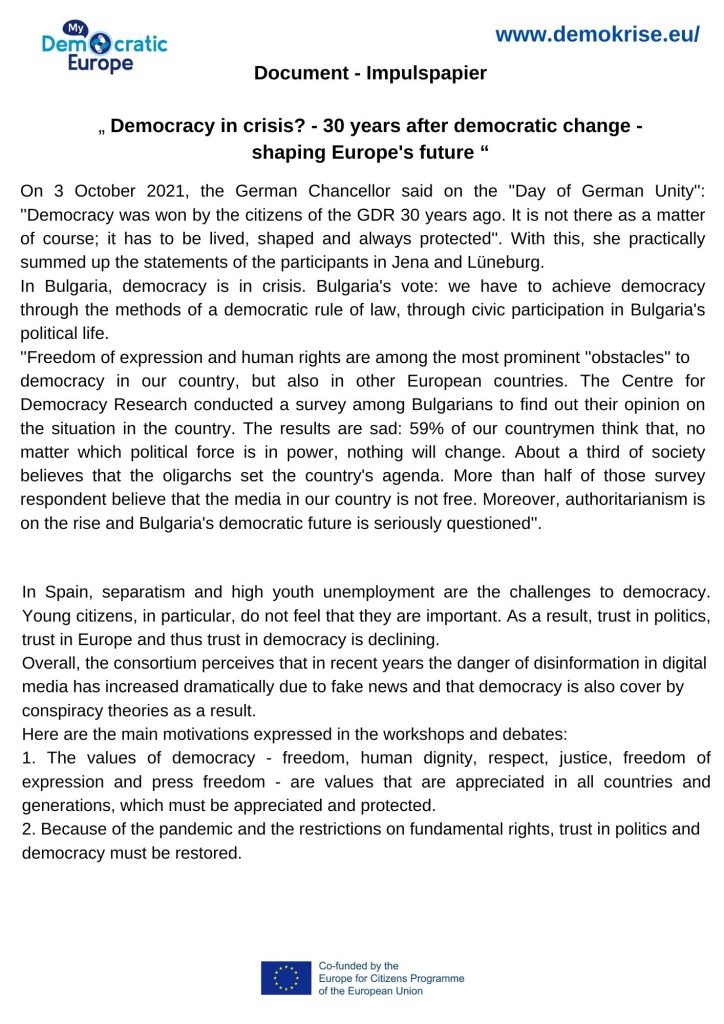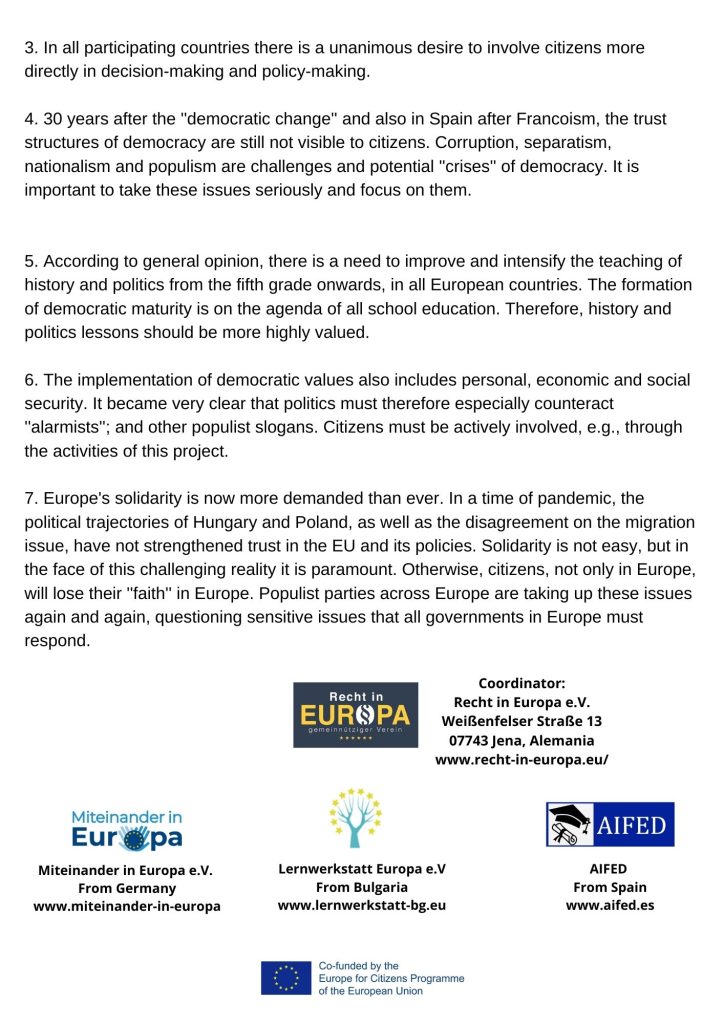 Our city  still embodies southern spanish culture.
Indeed, walking in the streets of Granada is discovering Spanish history and its culture with typical art creations, sculptures, buildings and colours of Spain in each neighbourhood. Notable emblematic places UNESCO world heritage site like Alhambra and Albaicin can be discovered.
Albaicin retains the narrow winding streets of its Medieval Moorish past dating back to the Zirid dynasty. The Moorish quarter of the Albaicín is a labyrinth of alleys and plazas lined with a multitude of whitewashed houses. After the reconquest of Granada by the Catholic kings in 1492, the original mosques of this Moorish neighbourhood were destroyed and replaced by churches.
The Alhambra is a fortified medieval palace in Granada. It is one of the highest places in Spain. The palace complex of the Alhambra dates from the period of the Moorish rulers. The palace is made up of beautiful rectangular courtyards with numerous fountains, buildings and courts.
The « photo marathon » activity outcomes will be shown in international exhibitions in each city, where the current challenges of democracy will be discussed. These photos invite the participants to talk about Europe, their countries, cultures and heritages which is one the objective of the project.